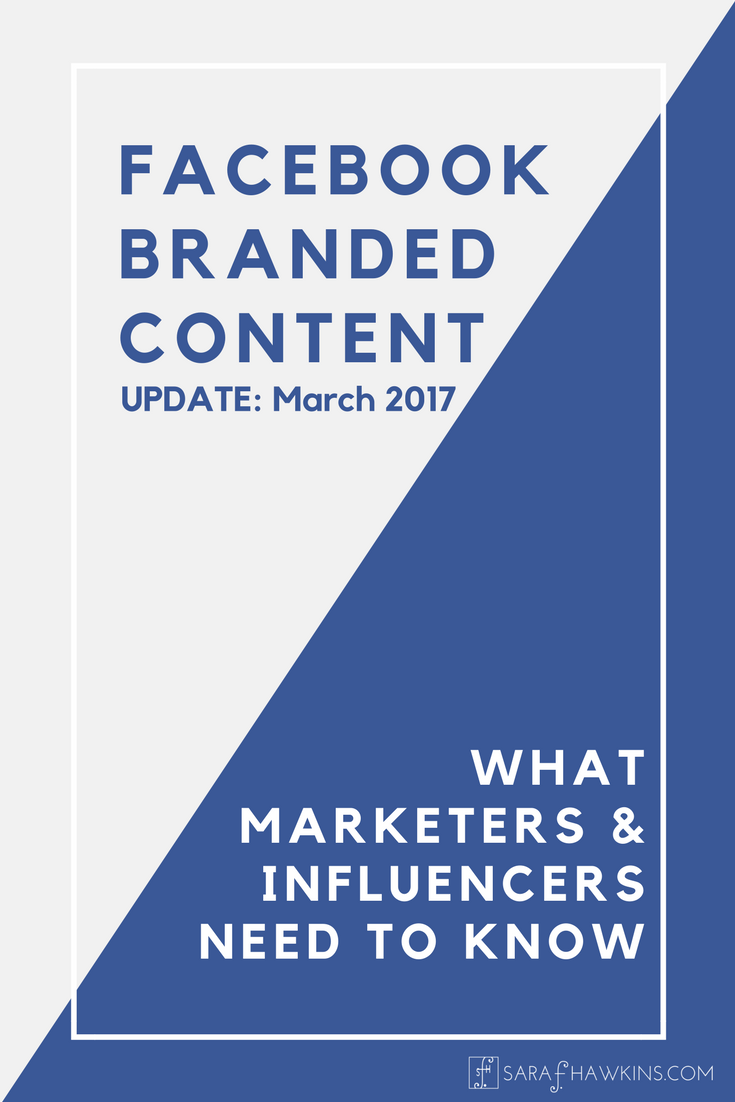 Facebook Branded Content Policy Update – March 2017
On March 30, 2017, the Facebook Branded Content Policy was quietly updated (again). The most significant change is that now only Pages or profiles with access to the Branded Content Tool (BCT) are permitted to post branded content. These are significant changes to both the original policy, which I wrote about when the policy was introduced, and the last update in October 2016.  Facebook Branded Content Policy
Now, the Facebook Branded Content Policy requires a non-Verified Page or profile to use the Branded Content Tool if it wishes to post branded content on the Page or profile. Although, if your Page or profile does not have access to the tool (the 'handshake button') you are prohibited from posting branded content. Facebook Branded Content Policy
How to get the Branded Content Tool: (For Pages Only at this time)
Facebook has made it easy for non-verified (blue check) Pages to apply for access to the Branded Content Tool. While the new policy includes both Pages and profiles, at this time non-verified profiles are not able to apply to use the BCT. If you manage more than one Page, you will need to apply for each page separately as the drop-down 'Select Page' option will require you to pick one only. Facebook Branded Content Policy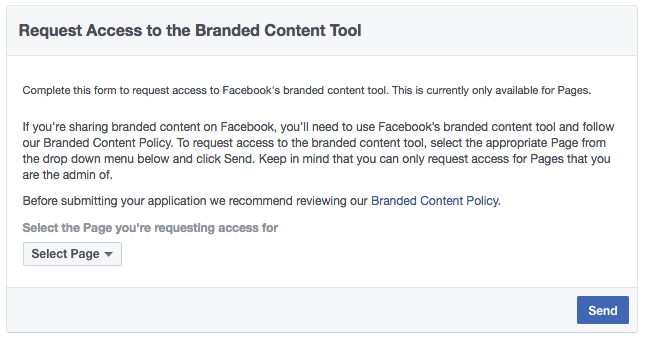 After clicking 'Send', a pop up box will appear letting you know Facebook will let you know the status of your application in 2 business days. You will find confirmation of your request in your Support Inbox. Not sure how to access the Support Inbox? Click the 'question mark in a circle' in the top right of the page and you'll see Support Inbox toward the bottom. Click on that to open you inbox.
Branded content is defined as:
March 30, 2017:
… a creator or publisher's content that features or is influenced by a business partner for an exchange of value. (emphasis mine)
Original:
… content originating from a Page owner that features third-party products, brands, or sponsors that are different from the Page owner.
October 2016:
… content originating from a Page or Profile that features third party products, brands, or sponsors that differ from the Profile or Page. (emphasis mine)
What needs to be tagged now?
I think the simplified language makes this easier to determine, pretty much everything you post because of a business relationship. Any content you post due to this business relationship you have, regardless of how you are getting compensated, must be posted using the Branded Content Tool. If you get money, goods, services, a commission, credits to use on a site, candy, some for of in-kind reciprocation, or even the all-so-exciting 'exposure' if the 'exposure' could be deemed to have 'value' must now be posted through the Branded Content Tool.
Anything not allowed?
Of course, this is Facebook after all. In the new policy, use of the Branded Content Tool must comply with the 5 stated parameters, most of which have been part of the policy for some time. What is new is the requirement to have consent to tag a Page.
Tagging Pages – in the past, there was no affirmative obligation to have permission to tag a Page. Now, you must have permission to tag the page. This is something you would likely want to include in a contract or get in writing since you don't want to deal with someone who files a complaint with Facebook saying you don't have permission.
What is NEW?
In prior versions, logos, watermarks, and graphics were not allowed in the first three seconds of any video. Now, though, Facebook permits logos, watermarks, and graphic overlays throughout the entire video.
Also, this feature has begun rolling out to Pages on iOS. Facebook says it will soon bring the feature to Android, too.
Enforcement
There is a significant change in how Facebook will enforce the policy. In the past, violating posts were flagged and removed. Now, Facebook will hide the post from the News Feed until you correct the violation. Once corrected, the post will be visible on the News Feed again.
How would people know?
With the update, Facebook also changed how the post is designated when using the Branded Content Tool. My friend, social media expert Peg Fitzpatrick, sent me a link to show me that the post will now indicate 'Paid', along with the brand that is tagged. You can see below where it shows 'Paid' in light grey next to the time and who can see the post.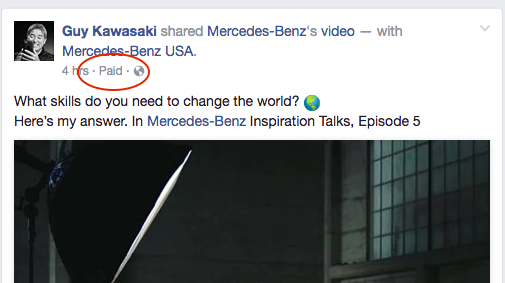 Disclosure of Commercial Content
As you are likely aware, the disclosure of commercial content is required not only by Facebook's terms but also by US federal guidelines issued by the Federal Trade Commission. FTC required disclosure is not going away, but Facebook is not absolving you of the responsibility to make the disclosure. The new policy language reads:
5. Comply with all applicable laws and regulations, including by ensuring that you provide all necessary disclosures to people using Facebook, such as any disclosures needed to indicate the commercial nature of content posted by you.
While the words are different, the requirement is the same as it has always been – you, not Facebook, are responsible for making the necessary disclosures.
Conclusion
Clearly, Facebook has an ongoing strategy to identify paid content being posted by users. It's nice that this feature is being opened up to more users, but it still can trip some people up if you are working with brands that want additional 'at mentions' in the status text box. I think it's pretty clear that there is a large net designed to cover a significant amount of content and Facebook plans to enforce the new policy by making you aware of the error and giving you an opportunity to correct it and get the content back into your feed. Facebook Branded Content Policy
If you found this article informative, take a look at my other articles about copyright, trademark, and social media. If you'd like to discuss this topic further, please contact me or connect with me on Twitter or LinkedIn.
Share on Twitter