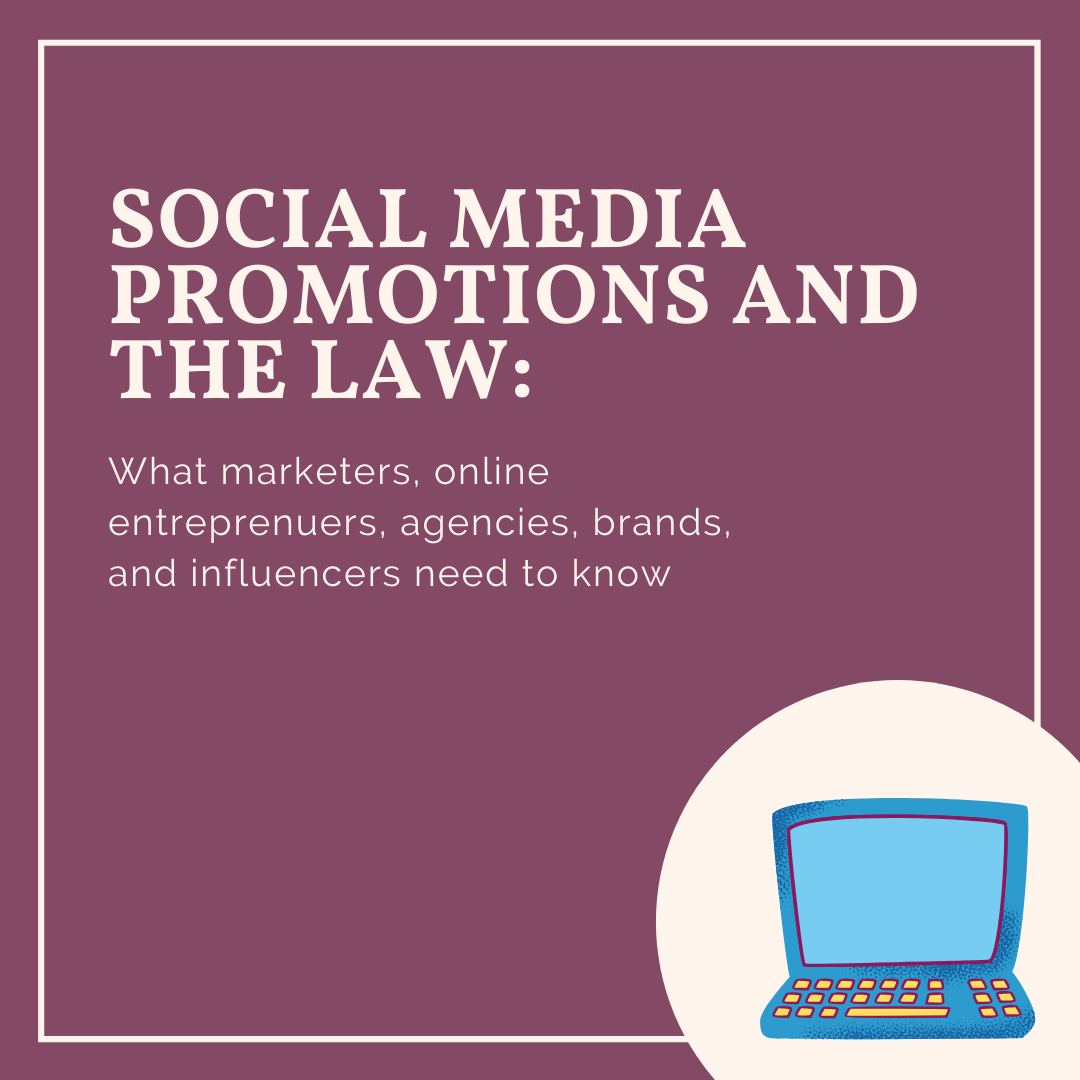 Considering using social media contests or giveaways to grow your business or that of your client?
Are you aware that social media promotions must comply with state and federal laws? And that you may have problems with your giveaway?
Why Legalities?
One of the best ways to grow your business is to give stuff away.
Whether your business is a small enterprise, a website or blog, or a large multinational company, hosting social media promotions is sure to increase traffic, awareness and potential new readers or customers. Sponsoring, hosting, and administering social media promotions comes with rules and regulations that many don't know or understand.
Really, what could be so hard about telling people you'll give away something if they sign up for your newsletter, leave a comment, like your page, or follow you on social media?
Remember the days when you had to buy things to enter a giveaway—and the stuff never arrived, or if it did, it wasn't worth a fraction of what you paid?
Research shows that more than half of all adults in the U.S. enter at least one sweepstakes every year. That's a lot of things being given away! Used correctly, giveaways can increase quality of interaction and greatly increase your readership.
What are the three types of giveaways or promotions?
There are three types of promotions used to give things away: sweepstakes, contests and lotteries.
While they often go by many different names (giveaway, raffle, drawing), legally all promotions, including social media promotions, fit into one of these three categories.
Sweepstakes are prize giveaways where the winners are chosen by the luck of the draw. Prizes can be almost anything you can think of, from handmade cards to an all-expense–paid trip.
Contests choose a winner based on some merit. Be very careful with these because your contest may actually be a sweepstakes in disguise!
A lottery is a prize drawing where people must pay money to buy a chance to win. Lotteries are highly regulated and should not be run without consulting legal counsel.
Most promotions we encounter in the U.S. are sweepstakes. Periodically, we'll find a lottery. Usually lotteries are limited to the states because they are heavily regulated and monitored and the costs associated with running a lottery are often prohibitive for most small- and medium-sized businesses.
In Canada and many European countries, however, most giveaways and promotions would be labeled as contests under U.S. law because they require a skills competition (usually a math question) to be valid. Does that always happen? No, but the laws require it.
How do I know which type of giveaway I'm doing?
There are three things the law looks at to determine if your promotion may be an illegal lottery.
Prize—who wants to enter a giveaway without a prize?
Chance—pure luck! You could get around this by having some skill or voting requirement but that is often difficult to manage or greatly limits the number of people who will enter. If you want to run a contest, you must omit this aspect.
Consideration—something of value given by entrants to the giveaway sponsor. Often it's money, but it doesn't have to be. Depending on what you require entrants to do, you could be pushing the envelope on this element. Each state may have its own particular definition, making it very difficult to manage.
When it comes to the online space, there are few things more valuable than followers/likes/friends (or whatever they're called at the moment).
As such, requiring someone to "like" you or "follow" you could be construed as consideration. Even more important, asking an entrant to go to a third-party site, navigate to find a product or service and then report back to your site is even more likely to be deemed consideration, and thus places your giveaway into the classification of illegal lottery. Time is exceedingly valuable! Plus, the platform may have restrictions on using their features for your promotion.
Because technology is moving much faster than the laws that govern, we're in uncharted territory with the definition of consideration.
Keep that in mind when figuring out what you'll have people do for entry. Your best bet is to always have a means of "free" entry and then consider "optional entries."
What laws apply to giveaways and promotions in the U.S.?
In the U.S., federal laws governing marketing promotions have been in place for decades.
Sweepstakes are the most common type of promotion and have primarily been conducted through the mail, which is where many of the laws originate (Chapter 30 of Title 39 of the U.S. Code).
This has given the Federal Trade Commission (FTC) some jurisdiction over monitoring sweepstakes promotions. However, under federal law, the U.S. Department of Justice would have ultimate authority regarding enforcement even if the FTC was not involved.
Many states also regulate sweepstakes, especially when they involve alcohol, guns or tobacco. For example, Massachusetts, Michigan and Virginia prohibit tobacco-related promotions while Tennessee and Utah highly regulate those involving alcohol.
In many sweepstakes or contests, you'll likely see states excluded.
It may be due to prohibitions on items given away or the state requires posting of a bond and the sponsor does not want to pay or go through that process. Florida and New York both require a bond to be posted if the total value of all prizes given away exceeds $5,000. Rhode Island has separate rules if retail outlets are involved.
Why official rules are so important.
Every sweepstakes, contest or lottery should have "official rules" and they should be easy to find. Some states actually require sweepstakes to have published "official rules" or, at the very least "official rules" that are available to the entrants in some easy to find form.
There are guidelines on what must be included in the official rules to avoid question should there be a challenge if an entrant doesn't win.
While the majority of people will never read the official rules, without them the sponsor highly increases the risk of liability.
Having a link to the rules in an easy to find and conspicuous place not only helps people find them, it also encourages people to read them.
Official rules must always include:
"No purchase necessary."
The alternative method of free participation.
Geographic area of the sweepstakes and/or who is eligible to participate in the sweepstakes.
Opening date and scheduled termination date of the sweepstakes.
Complete name and address of the sponsor and administrator (if there is one) of the promotion.
Number of prizes, the accurate description of each prize, the retail value of each prize and the odds of winning each type of prize.
Whether all prizes offered will be awarded and how the prizes will be awarded.
Manner of selection of winners and when a determination of winners will be made.
Where and when a list of winners can be obtained.
Of course there are other disclosures that should be made such as signing of releases, restrictions and misdirected entries. But if you hit the minimum, there is some compliance and protection.
One other aspect of the official rules is that once official rules are posted and published, they must be followed exactly.
They cannot be changed except under unusual and extreme circumstances or under terms set out in the official rules. For example, if you were giving away a trip to Japan in the weeks after the earthquake, you could have changed the prize to another destination. But, as you see, we're talking very unique circumstances.
Giving Away Expensive Things
Most giveaways have pretty minimal value—an eBook, $25 for an online store, a free product. But if the value of your prize is $600 or more, keep in mind that you will need to take an extra step (possibly several!). You didn't think the IRS would just let you do your own thing, did you?
If the prize winner is subject to U.S. taxes, a Form 1099 will be required in January of the following year.
This means you will need to collect not only the name and address of the winner but also their social security number. Even more reason to maintain a high level of professionalism because asking people for this type of information carries with it great responsibility.
Hosting giveaways can help grow your business or your blog. If you thought this article was helpful, please share it. And, of course, if you're planning to run or administer a sweepstakes or contest and need legal assistance use the contact page or set up a consultation.
What are your thoughts? Have you done giveaways in the past? How will this information help you? Please share your comments below.
Note: This articles originally appeared, in a slightly different format, on Social Media Examiner in 2011.