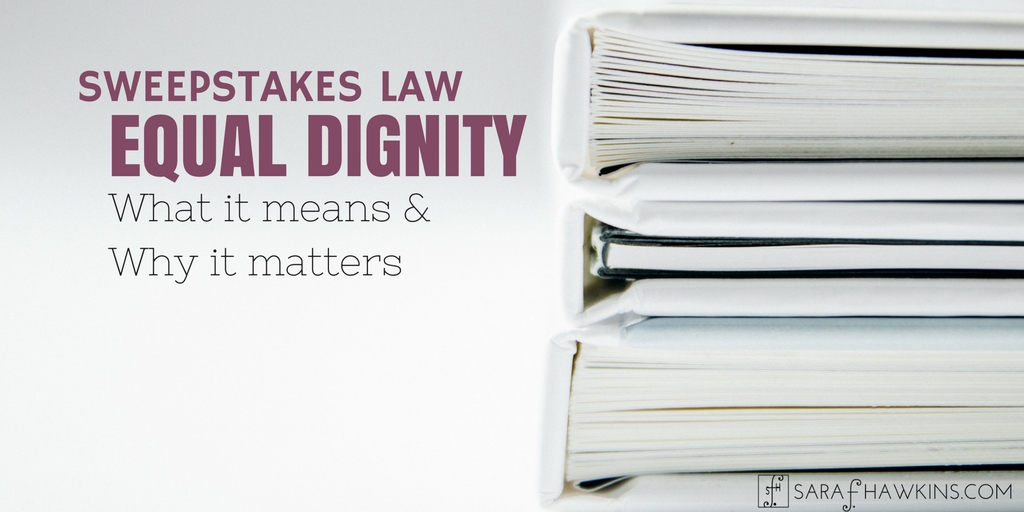 Note: While much of this article is applicable outside of US laws, only US laws and regulations are addressed.
While social media platforms have reduced the barriers of running a sweepstakes, contest, or 'giveaway', they've raised the bar on how much entrepreneurs, marketing professionals, social media strategists, agencies, and brands need to know when it comes to marketing promotions and sweepstakes law. Years ago, it was much more expensive and cumbersome for a brand or company to run a contest or sweepstakes. Today, though, with a few clicks they can have what looks like a sweepstakes or contest up and running in no time.
The problem is that few of the people designing, managing, and administering these games of chance or games of skill understand the legal nuances surrounding these type of promotions. That's not a knock on them. They're likely great at their job. However, there are very few people like myself who've spent years working on both the business and legal side of marketing promotions. While no one expects business professionals to be lawyers, there is a requirement that, at minimum, if you're doing business that you know the legal basics of your business. Business people don't get a pass on understanding sweepstakes law because they don't have a law degree.
When it comes to national and international sweepstakes and contests, they used to be something only large companies could undertake because of the costs and limitations. The internet and social media changed that. But what didn't change is that large companies and agencies have, while many smaller companies do not have, legal teams or outside counsel who can take what the marketing and advertising folks want to do and translate that into legal terms that are compliant with federal laws as well as the laws of all the states it will run. Still, every business running a sweepstakes or contest is held to the same standard even though they may not have the same resources.
Today I want to cover a concept that is often overlooked in many sweepstakes conducted online; "equal dignity". "Equal dignity" means that there is equality among entrants with regard to four aspects of the sweepstakes: (i) method of entry, (ii) opportunity to win, (iii) claiming prizes, and (iv) prizes awarded.1 The challenge I often have is explaining to clients that "equal dignity" is not laid out nicely in state or federal laws governing sweepstakes, but rather it's an inherent part of fair dealing laws that are applicable to any type of consumer marketing and advertising promotions. Equal dignity came out of case law and administrative proceedings which, unfortunately, rarely provide a neat checklist to tick off as a means of ensuring you've done everything right. Equal dignity is a 'look back' determination as much as it is a concept that marketers must build in from the beginning.
With regard to omnichannel sweepstakes, often it is the method of entry and the opportunity to win that lack equal dignity. Why? Well, those are the two things marketers need to deliver on for the promotion to be measured a success. Marketers are often using a sweepstakes to grow a particular channel. Whether it's more followers on a specific social media platform, social shares, impression, or any of a number of metrics, more and more we're seeing sweepstakes where one or more methods of entry give the entrant a greater chance of winning over the other methods.
In the examples below, an entrant is given a different number of entries depending on the method of entry, ultimately giving entrant a significantly greater opportunity to win for choosing one method of entry over another. While nearly all the methods of entry require a simple click or completing a short form, the "opportunity to win" is not equal for every method. I completely understand that there is likely a marketing goal behind choosing to give more entries to one method versus another. However, from a legal standpoint, doing so does not align with equal dignity principles with regard to the opportunity to win the promotion.
While I would like to see the various sweepstakes platforms force compliance, I'm not sure the platforms want to get involved with the legal compliance side. I've always thought it would be pretty easy, especially if the platform worked with someone like me who understands the legal and marketing sides of sweepstakes.
When it comes to equal dignity with regard to the method of entry, we're looking at what an entrant must do to enter the sweepstakes. With online entry methods, we're often talking about a click or completing a short form. It's often the Alternate Means of Entry (AMOE) that is the problem. When one of the entry methods to a game of chance requires a purchase, to meet the legal requirement for a sweepstakes there must be a 'no purchase necessary' (read: free!) method to enter. Sometimes this can be as easy as directing the entrant to an online form to fill out. Usually, though, the AMOE is a mail-in option.
If any method of entry is more onerous than others, especially if the "easy" methods of entry are those where the entrant made a purchase, the sweepstakes may be found to lack equal dignity with regard to the method of entry. Courts generally agree that requiring the entrant to purchase a first-class or postcard stamp and hand write the entry information is acceptable. What courts have trouble with is sweepstakes burying the AMOE, not making it clear that there is a 'no purchase necessary' option, or making the AMOE process overly difficult that very few will actually enter using this method.
So what's a marketer to do? Besides hiring knowledgeable legal counsel, anyone involved in the sponsorship or administration of a sweepstakes should make sure they know how to create a legally compliant sweepstakes. While the risk of having legal or regulatory action taken is likely small, there is also the reputational concerns that should come in to play for you, your business, and your clients. While not a comprehensive list, here are a few things you can do to ensure your sweepstakes follows the law:
No purchase necessary, especially if some methods of entry do require purchase or confer consideration to the sponsor, administrator, or associated third-party.
Winner must be chosen through a random draw of all eligible entries.
There are clear, easy to read, and easy to find Official Rules.
ALL methods of entry provide THE SAME CHANCE of winning. No method of entry gives the entrant more entries than the others.
Every entry has THE SAME CHANCE of winning. Do not separate entries so certain types are more or less likely to be chosen.
Once published, the rules do not change. If there is a material error, consult knowledgeable legal counsel before modifying the rules. Not getting enough entries is NOT a sufficient reason to change the rules.
Global sweepstakes are a violation of most other country's laws. Before holding a sweepstakes for residents outside the US, consult knowledgeable legal counsel.
If social media or online platforms are used for promotion or methods of entry, be sure to follow their rules as well.
Have a clear start and end date/time.
Ensure the prize gets to the winner even if a third-party is responsible for delivery.
If the promotion is marketed toward kids under 13, know the additional legal requirements.
If a minor (anyone under the age of majority for their state of residence, which is not always 18) wins, know what legal steps need to be taken for contracting with a minor.
These are just a few of the requirements you'll want to consider when creating and managing your sweepstakes. While there isn't one place to go for a complete checklist, I hope the tips I've shared give you some insight into creating a sweepstakes that will keep you on the right side of the law. For me, I've been working with marketers and entrepreneurs for over a decade with sweepstakes law compliance so it's a bit second nature. Sweepstakes law is one area of expertise I have. And while it may not be yours, the courts and regulators will still require you to follow the law.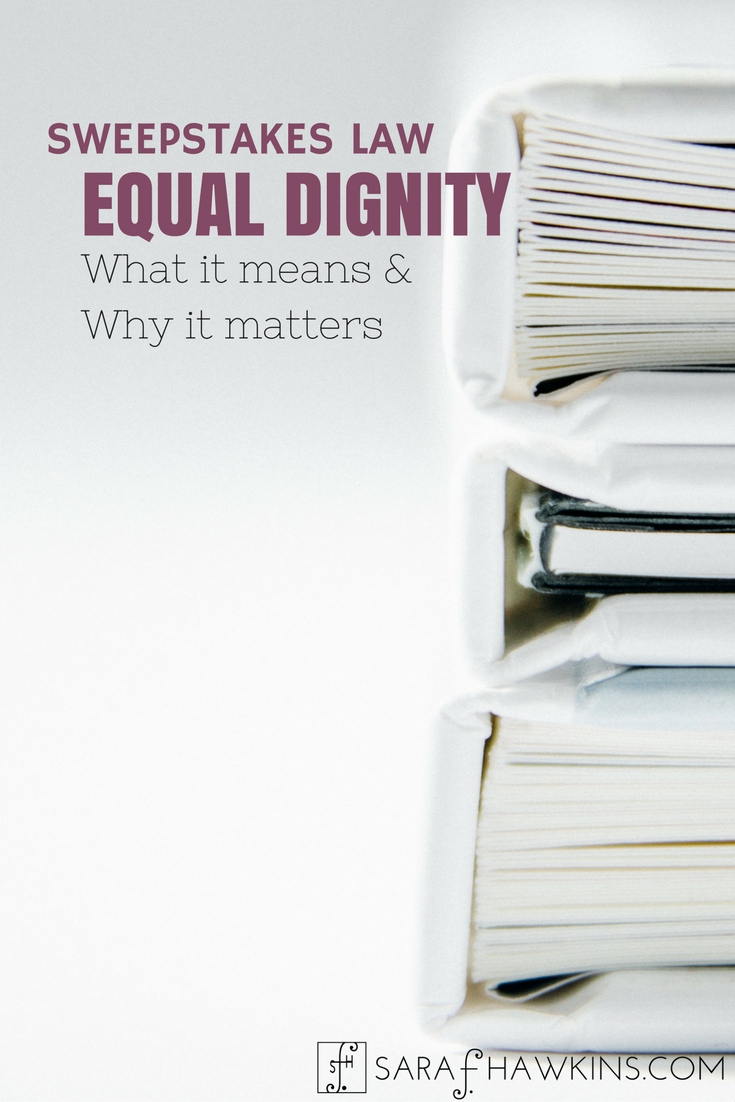 1. Anthony N. Cabot & Louis V. Csoka, The Games People Play: Is It Time For A New Legal Approach To Prize Games?, 4 NEV. L.J. 197, 204 (2003-2004).