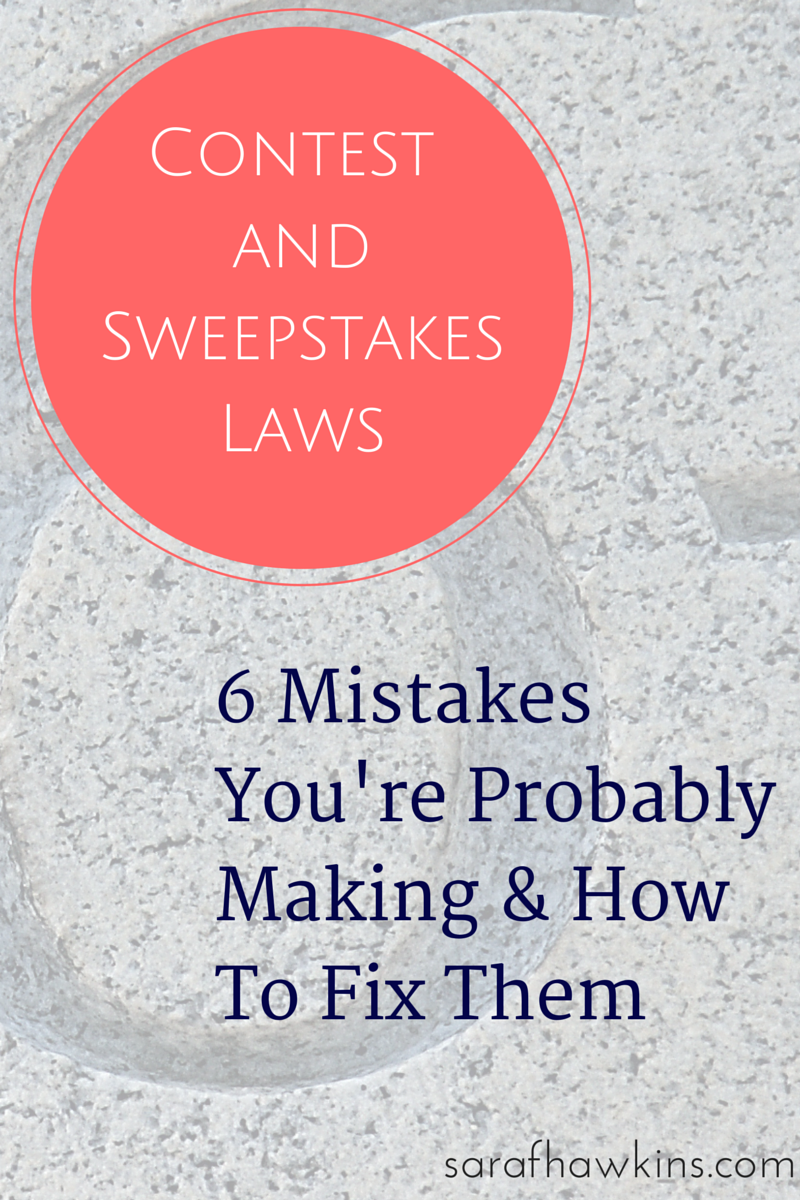 Contests and sweepstakes are powerful marketing tools. Whether it's a blog, website, or social network there is no shortage of people or businesses wanting to give things away to their community. And why not, people like to win free stuff. But contests and sweepstakes law is also important to be aware of, too.
When it comes to giving things away and asking people to enter in some way so you can choose a winner or two you're crossing the line from pure marketing into the legal realm. This is where problems can arise. There are a host of marketing and business concerns that blur lines with state and federal law and regulations. Advertising guidelines for promoting certain products establish parameters that need compliance. Truth-in-advertising regulations apply to every marketing promotion. So it should come as no surprise that you should also be asking is your giveaway legal.
There are a number of reasons why giveaways could run afoul of the various contests and sweepstakes laws. I see them every day both as an attorney and as a consumer. And it's not just small businesses that have problems with the contests and sweepstakes laws. I've seen major companies run promotions that would easily open them up to significant liability. So I want to share with you information you can put into action to help improve the chances that your promotion will not expose you, your clients, or your business to greater liability.
6 Mistakes You're Probably Making With Your Contest or Sweepstakes and How To Fix Them
1. No Official Rules. Unfortunately, the laws related to sweepstakes and contests don't care that you're just trying to be nice and give back to your community. These laws were written long before the internet was more than just a place to illegally download music. As a matter of fact, few laws related to consumer promotions have been updated to account for the advances in technology.
This has left the courts to decide what some of the words mean with regard to technology. I'm sure that whenever you play a game you want to know the rules. It's basic kids' stuff, really. Without rules how do you know who wins? Without rules, what happens when someone cheats? It's nice to think that everything will go right.
Official Rules aren't really there for when things go right, they're there for when things go wrong. If you do not have Official Rules you open yourself up to liability if someone doesn't win but thinks they should have.
How to fix it: Create Official Rules. Ultimately, you should work with an attorney who specializes in this area and not just cut and paste things off the internet.
2. Changing the Official Rules after the promotion begins. Don't do it! Remember when you were a kid and you thought you were winning only to find out that the rules were changed after you started? Not only is changing the rules often illegal, or, at the very least, a violation of consumer protection rules, consumers (and your competitors) see it as unethical and can expose you for not being on the up-and-up.
If your promotion is one where you have had to file a bond, changing the rules is a violation not only of the contests and sweepstakes laws but also of the bonding regulations which often include very high penalties and fines for making changes after application for the bond. Are there exceptions? Sure there are. But the exceptions are very limited and are usually reserved to issues where there are material errors in the rules (such as all the marketing offers a prize of $500 but the Official Rules show $5,000) or where there is a situation that is compromising the integrity of the promotion (such as use of bots to enter, hacking, etc.).
How to fix it: Once the promotion begins, don't change the rules! If you are in a situation where you think you need to change the rules, consult an attorney and ensure you have the law on your side if you were to be sued. Even if you don't get sued, the public relations fallout could be harsh.
3. Not knowing the difference between a sweepstakes, a contest, and a lottery. It may not seem like a big deal, and from a marketing standpoint it probably isn't. From a marketing standpoint it seems that the words giveaway, promotion, sweepstakes, and contest all mean the same thing and are often used interchangeably. When it comes to the law, though, these words have very specific meanings, especially when it comes to running consumer promotions in multiple countries.
How to fix it: There are 3 words related to consumer promotions that have legal meaning. These need to be used correctly because they dictate how you choose the winner and how your promotion is structured. Know the difference between a sweepstakes (winner chosen at random), a contest (winner chosen based on skill), and lottery (highly regulated game of chance that is illegal in most states except in certain instances).
Giveaway and promotion do not have legal definitions. It may not seem like a big deal to interchange the words sweepstakes and contest, but since they have different legal meanings it could create confusion for entrants or result in your not running your promotion in a legally compliant manner. Keep in mind that some countries may have different meanings for these same words, making it even more difficult to run your promotion on an international scale.
4. Not understanding what "No Purchase Necessary" really means. Most people read this in a literal sense of having to actually pay money for something to earn an entry. This three-word phrase confuses many people. When it was first included in sweepstakes laws the meaning did relate to requiring entrants to have to buy something to obtain an entry. Note that I used the word sweepstakes and did not include contest. This distinction is important because the "no purchase necessary" requirement is not universal for all consumer promotions.
Over the years courts have had to interpret what "no purchase necessary" means and have expanded it to mean consideration. Unfortunately, there are few cases that set out exactly what is and is not deemed consideration. Obviously, money (cash or cash equivalent) is consideration. But what about all the other things – Likes, Tweets, Pins, shares, comments, subscriptions, – that are valuable to online marketers? We don't have guidance from courts at this point but what we do know is that consideration is a very broadly defined word and each of the 50 states has their own definition.
In 2011 the U.S. District Court for Central California took on a case involving this matter with regard to the voting mechanism on "America's Got Talent". Although the class action was settled, there was no case law that came out to further define this aspect of the law. And while having some way to submit a "free" entry is great, how you make it known is equally as important. While you may think no one is really paying attention, indeed they are and in 2013 the A&P grocery chain agreed to pay $102,000 in fines for burying its "free" entry in the rules.
How to fix it: Always have a method of entry for your sweepstakes that does not require the entrant to exercise more than minimal effort, is not an action that confers economic value, and is easy to find in your rules. Keep in mind that what you consider to be minimal effort may not be what consumers deem minimal and that courts may ultimately find your required action confers a economic value to your organization or one with which you have a material relationship.
5. Giving different types of entry more value than others. While there are no specific state laws or cases to cite where there is explicit language about this concept of "Equal Dignity", it is through a collection of cases where courts have ruled on various aspects of sweepstakes administration that we get this idea of equal treatment for entries and prize winning.
This stems from promotions in years' past where those who purchased a product had a greater likelihood of winning than those who did not make a purchase. Known as "entry dignity", this is one of the top mistakes I see with online promotions. Many use a third-party widget or app which allows for various entry methods to be given different point values for entries. Just because the third-party platform allows this doesn't mean it is legal. And don't expect the third-party platform to cough up the money if you are sued or fined, because you've likely released them from any liability in the terms of service (which many don't take the time to read).
How to fix it: Give all entry methods and the opportunity to win the stated prizes the same chance of winning, regardless of what the entrant had to do to enter. You may really want people to sign up for your newsletter or comment or Pin or share but you can not give them more entries, and thus a greater chance of winning, for doing those things than if an entrant just fills out a basic form. In addition, you can not limit who gets to win any particular prize to those who take certain action.
6. Allowing anyone to enter. This may seem strange, but your promotion can not be open to everyone. With online promotions this is especially troublesome for US-based influencers, businesses, and websites because it often means excluding non-US residents. I often see comments from Canadians who are upset because they can't enter.
But, the fact is if you are going to open up your promotion to entrants who reside in other countries you need to comply with the contests and sweepstakes laws of those countries. For Canada this means understanding their laws for contests as well as meeting requirements for opting in to email communications as well as complying with the language requirement for residents of Quebec.
In addition, if your promotion is open to anyone, there are US (and other jurisdictions) laws regarding advertising to minors (in the US it's handled by COPPA), rules pertaining to minimum age for checking into hotels, renting a car, or attending an event where alcohol may be served, and other legal considerations you must consider based on the prize, industry, or entry methods.
How to fix it: Only allow those residents of jurisdictions where you know for certain you can comply with the law. Understand the laws related to marketing to children under 13 if your promotion is targeted to that group. Realize that prizes you choose may limit who can win. It's great that you want to include everyone, but it's important to understand that there are significant consequences if you can't comply with all the laws needed to do so.
Running a sweepstakes or contest takes more than just creating a fun way to give away prizes to your customer or readers. Engaging with your customers and trying to attract news ones is an important part of marketing. But the legal issues related to consumer promotions are a significant consideration as well. While it may seem like no one is watching, the reality is that there are people who are watching. Like many laws, not everyone gets caught when they do something wrong. However, that's not a reason to turn a blind eye to the law. And, honestly, it's very easy to fix each of these problem areas. Ultimately, though, if you can't afford to do it right, ask yourself if you can afford to do it wrong. Contests and sweepstakes law
If you are planning a contest or sweepstakes and need legal assistance, I may be able to assist you.
If you found this article informative, take a look at my other articles about copyright, trademark, and social media. If you'd like to discuss this topic further, please contact me or connect with me on Twitter or LinkedIn.