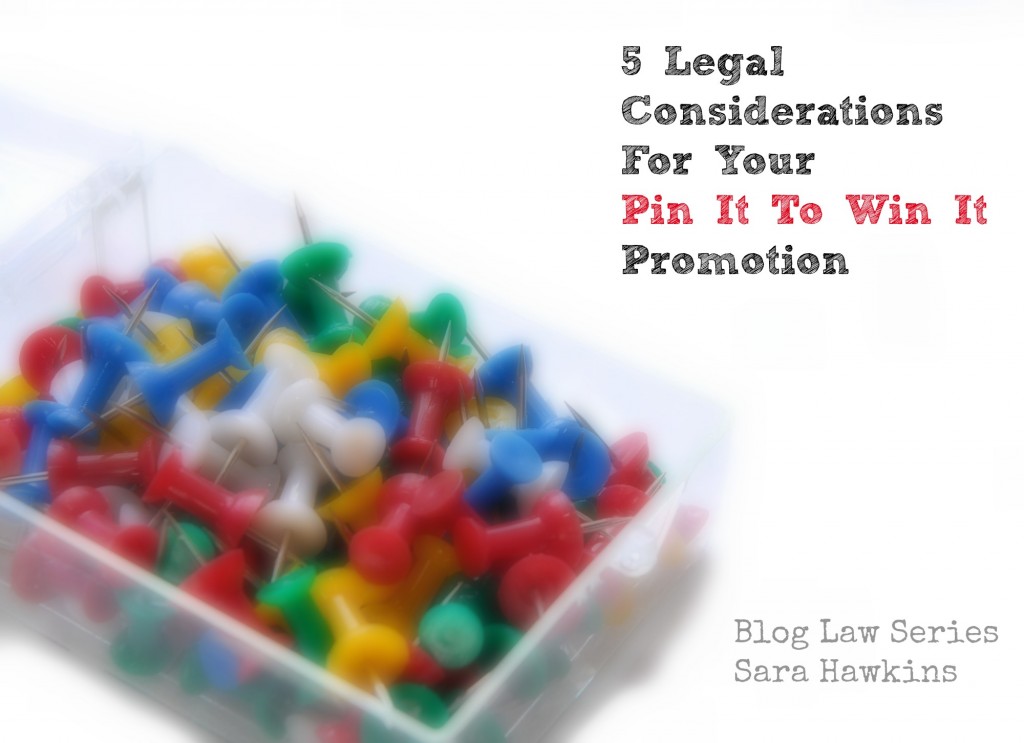 Pinterest is one of the most popular social networking platforms, especially for people who are visual. Pinterest is currently the fastest growing social network, and if you're on it you know why. If you're not on Pinterest, you may not understand all the hype. Suffice it to say that Pinterest's digital "pin boards" have given millions a place to house all the things that were once relegated to bookmarks.
Whether it's a sweepstakes or contest, using Pinterest for your giveaway is becoming very common. Like most social media platforms, there are rules for your Pinterest giveaway. These rules are in addition to the legal and regulatory rules for giveaways.
More and more, though, I'm seeing "Pin It To Win It" (PITWI) type promotions. Now that Pinterest has business accounts, it's easier for a business to create a promotion that includes Pinterest. Pinterest has even created some promotion guidelines to give insight as to how and how not to use the platform.
The days of the wild west use of Pinterest are gone. While many have ignored the FTC Disclosure requirements and the fact that there really are laws about giveaways, that should change now. Pinterest, while not so clear in their new guidelines, has mentioned that it is up to the business to apprise themselves of laws or administrative rules that may also apply to their promotion. Unfortunately, I don't see small businesses doing this. Even large companies, with access to lawyers, aren't taking the time to have legal check over their PITWI promotions. What's worse is that many companies hire outside agencies to run these promotions and these outside PR, social media and digital agencies aren't seeking legal input either. Instead, they might be relying on what some sales exec at the company providing their promotion interface (be it an app, an embed or widget) give them info on what to do or "social media experts" who know just enough to be dangerous.
Problem is, there are laws that govern sweepstakes and contests. And, the FTC has been very clear that there must be disclosure if there is a material relationship between the parties. Unfortunately, the laws relating to sweepstakes and contests are lagging the technology and the FTC is understaffed and can't monitor the tens of millions of online communications daily that are subject to disclosure.
To help you, your clients or your business, I'd like to share with you 5 things that may cause your Pin It To Win It promotion to run afoul of existing laws or disclosure rules. Of course, you should also be in compliance with all the Pinterest Promotion Guidelines as well.
1. Compensation – this is one of the huge grey areas in current sweepstakes law. In the past it was easy to define compensation because the only way the company could be compensation was with purchase. Now, though, the value of engagement is one of the main reasons businesses do these types of promotions. With a sweepstakes you often see the phrase "no purchase necessary". This is so that there is a way to enter without providing compensation to the sponsor. With a PITWI promotion, there is almost always some value conferred to the sponsor. In the world of Pinterest, a pin or repin is virtual currency. Every PITWI sweepstakes should have a method of "free" entry that does not require the entrant to pin, repin, like or somehow provide this virtual currency to the sponsor. Because contests are a "game of skill", the legal guidelines are a bit different than those of sweepstakes and can require voting mechanism or other interaction between the business, the contestant and the public.
2. Method of Entry – courts are very settled that an entrant to a sweepstakes should be required to do as minimal as possible for their "free" entry. There has not been a current case addressing what this means in the world of the internet. However, taking the current law, cases and commentaries, a business should not require too much of a person to gain an entry into the sweepstakes. Having an entrant create an elaborate board, make multiple pins/repins/like, or click around like they're on a scavenger hunt could be seen as requiring too much effort on the part of the entrant for the entry.
3. FTC Disclosure – The FTC requires clear and conspicuous disclosure if there is a connection between the endorser and the seller of the product or service. By requiring an entrant to create a board or pin or repin something to one of their existing boards as an entry to win a prize, it could be argued there is a connection between the endorser (entrant) and the seller of the product or service (business). You have to ask yourself, "would this person be pinning, repinning, liking, or creating boards unless they could potentially win something?". If the sole reason for doing those actions is gain entry, should there be disclosure? The FTC has not spoken about this specifically, however, I believe it's only a matter of time before we hear about the FTC investigating this type of promotion. You may ask how someone is supposed to disclose when it's just a click. Or how are they supposed to disclose. These are questions that don't really have an exact answer, which is why these PITWI promotion can create a liability that the business did not contemplate.
4. Copyright  – one of the issues faced with promotions involving photographs and images is copyright and the potential for infringement. While Pinterest TOS do speak to the fact that one should only pin images for which they own the copyright, it is well established that that is not always the case. Copyright ownership is a significant concern when using Pinterest. By asking an entrant to pin an image owned by the business, there may be little or no concern with the copyright issue. However, if the entrant must pin their own image or pin another image found on Pinterest the business must now be concerned with the copyright issue. Furthermore, if the business has pinned images to their own board, for which they do not own the copyright, the continuous infringement issue could create significant liability. Copyright should be of special concern when the promotion is a contest and there may be voting on images pinned or repinned.
5. Location of Entrant – sweepstakes and contest laws are specific to each country. Pinterest is a global platform that does not provide any easy method of determining location. And with prizes that may be capable of fulfillment via an email, there are concerns that laws of the country in which the entrant is a legal resident are being overlooked. A business may face significant liability for running a promotion that is open to residents of countries where the business has not ensured the promotion is legally compliant.
Complying with the laws, administrative rules, and Pinterest Business Guidelines are essential for a long term social media strategy. Sure, it's easy to look the other way because it seems like everyone else is. But the reality is that legal compliance is an important part of every corporate strategy and shouldn't be an afterthought.
Disclosure: While I am a lawyer, I am not offering legal advice. Posts on legal matters are intended to provide legal information and do not create an attorney/client relationship. This post was not sponsored, reviewed or edited by Pinterest. I am not affiliated with Pinterest and use of the Pinterest logo does not imply endorsement.