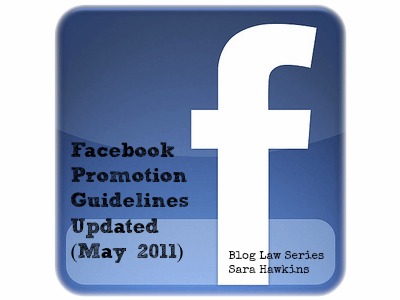 This week, on May 11, 2011, Facebook made some sweeping changes to their promotional guidelines. The Facebook promotion guidelines are much shorter, but still pack a punch. As such, I wanted to highlight the changes.  To see the prior iteration of the guideline, check out my Blog Law post about the prior Facebook promotion guidelines.
Things That Remain the Same
1. You Must Use A Third-Party Application. The rule is now plain and simple that promotions on Facebook must be administered within Apps on Facebook.com, either on a Canvas Page or an app on a Page Tab.
2. You must not suggest Facebook is connected with your promotion
3. You must not ask people to interact on your Facebook page to vote or qualify
You must not use Facebook features or functionality as a promotion's registration or entry mechanism. (New Term #3) For example, the act of liking a Page or checking in to a Place cannot automatically register or enter a promotion participant. This means you can't say that when you reach XX 'Likes' you'll give 5 people something cool
You must not condition registration or entry upon the user taking any action using any Facebook features or functionality other than liking a Page, checking in to a Place, or connecting to your app.  (New Term #4) For example, you must not condition registration or entry upon the user liking a Wall post, or commenting or uploading a photo on a Wall.
You must not use Facebook features or functionality, such as the Like button, as a voting mechanism for a promotion. (New Term #5)
What this means for blogger & brand promotions?: If clicking 'Like' is an entry – and it would need to be an alternative means of entry due to Giveaway Laws – then the entrant must then take an additional step to tell you they clicked 'Like'. If using a 3rd party app within Facebook, this step is taken care of through the subsequent entry process. If not using a 3rd party app on Facebook then the entrant must go back to your blog or website and somehow tell you they did this. Simply clicking 'Like' as a means of entry into a promotion would be a violation of the Promotion Guidelines.
4. You must not use Facebook for notifying winners. This means no posting to walls, private messages, chat or anything that uses Facebook to communicate with the winner.
5. You must not use Facebook's intellectual property, except to comply with the rules. This means you can say the word Facebook when you disclaim it is no involved with your promotion but you can't use their trademark, trade name, copyright or other intellectual property to promote any aspect of your promotion.
6. You still have to comply with all Federal, State and Local laws regarding contests, giveaways, promotions, sweepstakes and the like.
Things That Changed
1. No longer will Facebook prohibit any goods or services from being offered in a promotion. In the past, they excluded things like dairy, alcohol, tobacco, etc. This mean that you're likely to see more promotions for things you may not be used to seeing. In addition, it means you're pretty much free to offer whatever you want as your prize as long as it's not prohibited by law.
2. No longer are Facebook promotions limited to people age 18 and over. While you may make that limitation, Facebook is essentially opening all promotions to anyone who can legitimately sign up for a Facebook account. This mean, children age 13 – 17 are now potentially able to enter promotions. Of course, if you are going to open a promotion to anyone under the age of 18, I highly suggest learning about the specific laws regarding promotions to minors.
3. Facebook no longer has exclusions based on location. Essentially, you can now offer promotions worldwide if you're willing to comply with whatever law govern such promotions. Just make sure your giveaway is legal!
4. The new Facebook promotion guidelines will allow for sweepstakes promotions as well as contests in which the winner is determined on the basis of skill. This is a slight departure from the prior rules which had several restrictions. Now, it's basically up to you to comply with any laws.
5. All promotions MUST include the following:
a. A complete release of Facebook by each entrant or participant.
b. Acknowledgment that the promotion is in no way sponsored, endorsed or administered by, or associated with, Facebook. (Note: this term isn't actually new)
c. Disclosure that the participant is providing information to [disclose recipient(s) of information] and not to Facebook.
Overall, I think these promotion guidelines are much better and easier to comply with. Rather than taking it upon themselves to police promotions, it appears that Facebook is shifting liability and responsibility to the promoter. That doesn't mean Facebook will all of a sudden slack off in monitoring compliance. Failure to comply with these new guidelines will result in your account being suspended, just as it had before.
Disclosure: While I am a lawyer, I am not offering legal advice. Posts on legal matters are intended to provide legal information and do not create an attorney/client relationship.