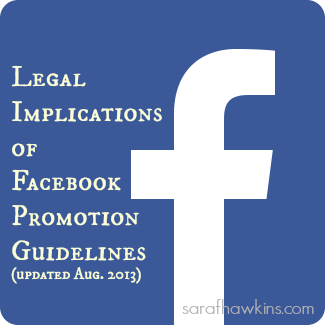 On August 27, 2013, Facebook made sweeping changes to its Promotion Guidelines for Businesses. It's been over 2 years since the last updates to the Facebook Promotion Guidelines. The changes today may significantly change how businesses run promotions on the social network.
What are the changes to the Facebook Promotion Guidelines? And how do they impact businesses? Well, I'm here to tell you not just the changes but also the potential legal ramifications of these changes. While Facebook may do what it wants on its platform, the company is cognizant that laws and regulations may further limit or prohibit certain actions when it comes to online promotions.
The following are the most significant changes to the 2013 Facebook Promotion Guidelines 
1. Facebook promotions can now be administered either in an app or directly on your business page. (Note: business promotions are still prohibited on personal timelines)
2. A "Like" is now a permissible means of entry.
3. Users may now post directly to the businesses page.
4. Comments on a post or page may now be incorporated as a means of entry collection.
5. For contests that require voting, entrants may now use the "Like" functionality to vote.
6. Users may now message the Page as an entry into a promotion.
7. Tagging is now permitted, but the Page may not tag nor encourage others to tag themselves in content in which they do not appear.
This iteration of guidelines is the first time we see Facebook specifically mentioning office rules and compliance with other regulations and laws. Nonetheless, the fact that Facebook mentions the need for official rules or other compliance mechanism may give rise to anyone reporting a page for failure to comply. It's possible a Page may be taken down if enough people, for whatever reason, report the Page as being in violation of the terms of service.
So now that you know the changes, what are some of the legal implications of the new Facebook Promotion Guidelines?
First, make sure you understand that Facebook did not change any of the legal requirements that must be complied with when running either a sweepstakes or a contest. The legal rules for running a giveaway are still effective, and this time Facebook has specifically mentioned that these laws and regulations must be complied with, in addition to following the rules for Facebook.
These rule changes on Facebook may significantly impact the liability of a business running a promotion. While using an app to administer the promotion may reduce the liability, I foresee a host of problems with running a promotion directly on the social network.
1. Entry management – with entries permitted for a multitude of different tasks (such as likes, tags, posts), it may be very difficult to manage all these types of entries and maintain appropriate tracking to ensure each entry was legitimately made and not in contravention of the official rules.
2. Under-age entrants – because Facebook permits users under the age of 18, there may be additional precautions a business must now take. While Facebook's official position is that a user must be at least 13 years of age, it is a well-known fact that many children under the age of 13 have an active page. Marketing to children under 13 is heavily regulated by COPPA and may have an impact on running a promotion on Facebook.
3. Location of entrants – despite the fact that a business may want to open its promotions to everyone in the world, that's not legally possible. It is nearly impossible to comply with every country's laws relating to sweepstakes and contests. What passes for a sweepstakes in one country may not be sufficient in another, or the requirements for a contest in one country may be the same requirements for a sweepstakes in another country, all of which create confusion and potential liability for including entrants who may not be qualified.
4. Winner selection – with entries permitted for a variety of actions, how will the business select the winner? If the promotion is not confined to Facebook, how will the business ensure that each entry is properly accounted for? Under US sweepstakes law, all entries must have the same likelihood of being chosen. Is that possible when the business can't track every entry? How will the business prove, if questioned, that all entries have the same chance of winning?
5. Interruption or Early End to Promotion – US laws relating to sweepstakes and contests are very clear that there must be extenuating circumstances to change the promotions time period. Given, now, that there is a possibility that Facebook can intervene and remove the posts, pages, or other types of engagement it is imperative that the business fully understand the legal implications of those actions. This will be an important consideration to be covered in the official rules.
6. Removal of entries by a third-party – because other people can mark potential entries as inappropriate, spam, abuse, or a variety of other reasons, it's possible that others may cause an otherwise valid entry to be removed from consideration. While it may be a Facebook functionality that cause the removal, the business is responsible for ensuring that all valid entries are protected so they maintain their appropriate likelihood of winning. If third parties can now cause entries to be disqualified, the business needs to take appropriate precautions to  prevent such manipulation of the promotion.
There may be other legal implications related to the administration of the promotion itself. Those issues that are present with all sweepstakes and promotions will continue to be present regardless of changes to the rules for using any social platform.
Nonetheless, it appears that there may be unforeseen consequences related to these changes. And as businesses up the ante with the prizes and bloggers continue to come together to promote their blogs, there will be more and more people looking to find ways to capitalize on promotions that fail to meet legal and regulatory requirements.
While businesses may find it necessary to seek help for their marketing and sales, I would hope they also see the importance of being legally compliant.  Hiring a lawyer should not be limited to defending against a lawsuit, especially when many legal concerns can be limited ahead of time.
What are your thoughts on these new guidelines? Will it change how you administer your promotions?